Low Level Laser Therapy Treatment for Smoking Cessation
With the moderate success of needle acupuncture for the treatment of tobacco addiction and with the growing concern of invasive treatments, research into the effects of low level laser therapy began in the 1970s in China and the late 1980s in Canada, France and the UK.
The growing evidence suggesting the enormous efficacy of the treatments for stopping smoking is becoming increasingly well know in the UK and is readily available in Europe, USA and now Australia.
What is Low Level Laser Therapy ?
First used 30 years ago LLLT is a pain free treatment supported by an enormous body of research explaining how it works and how best to use it. Not to be confused with surgical lasers, LLLT or light therapy has been in use routinely throughout the medical field for the past 12 years for the treatment of damaged tissue, pain relief, non healing ulceration and increasingly, acupressure point stimulation. Physiotherapists, doctors, podiatrists, nurses and pain clinics routinely use the therapy for it's non thermal, non invasive and dramatically effective results.
How Does The Therapy Work For Smoking Cessation?
Stimulation of auricular points for the treatment of addiction. Direct stimulation of endorphin release to aid the effects of withdrawal. Endorphin stimulation helps with the physical cravings and levels of stress and counseling gives the smoker the support to give up relatively easily.
What Does The Treatment Involve?
A half hour session including assessing the client's history and requirements followed by the actual laser therapy. Patients feel no discomfort only a wonderful relaxed feeling.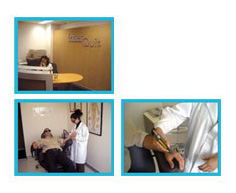 How Successful Is The Treatment?
This list of studies and references offers scientific, controlled evidence of the efficacy of the treatment.
However the patient must want to give up. This is not a magic wand and while evidence has clearly shown that counseling is not essential for significant effects it does help to understand the addiction and have well established guidelines to beat it.
Additional References:
British Medical Acupuncture Society 1997, Acupuncture's place within Mainstream Medicine. Acupuncture in medicine 15(2) p104 – 106
Laakso E.L Cramond T, Carolyn Richardson, Galligan JP. Plasma Acth and ß – Endorphin Levels in Response to Low Level Laser Therapy (LLLT) for Myofacial Trigger Points. Laser Therapy 1994 6:133 – 142
Steiner RP, Hay DL, Davis AW. Acupuncture therapy for the treatment of tobacco smoking addiction. AM J Chin Med 1982; 19:107 – 121
Swartz J 1988 Evaluation of acupuncture as a treatment for smoking. American Journal of Acupuncture 16 (2) p135 – 142
Wong T.Z & Fung KP 1991. Acupuncture: From needle to laser. Family Practice 8 (2)
Yang QZ. Acupucture. Beipang: Ming Xing pub house 1601: 68 –